Dr. Thornton is the national best-selling author of the heartwarming memoir, "The Ditchdigger's Daughters" published in 1995 and has never been out of print. The book, "The Ditchdigger's Daughters" was also featured on the "Oprah Winfrey Show". This family biography (co-authored with Jo Coudert) is a tribute to her parents and was condensed in The Reader's Digest, translated into 19 languages, adapted into a World Premiere Movie and nominated for the Peabody Award and the Cable ACE Award for Best Picture.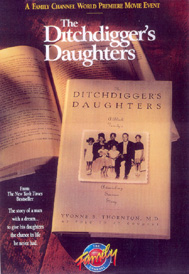 In 1996, the American Library Association named it as one of the Best Books for Young Adults and Doctor Thornton was given the "Excellence in Literature" Award by the New Jersey Education Association. She has also authored the medical text entitled, "Primary Care for the Obstetrician and Gynecologist".
As senior perinatologist in the Department of Obstetrics and Gynecology at The New York Hospital-Cornell Medical Center, Dr. Thornton established and developed the program for a new form of early prenatal diagnostic testing known as CVS (chorionic villus sampling). Dr. Thornton was one of the original American investigators whose CVS results were relied upon by the FDA prior to its granting approval for the procedure in 1989.
For many years Dr. Thornton has been an outspoken advocate on women's health issues, and a spokesperson for The March of Dimes.